Emmanuel Macron new dawn may be a false one, but at least his country has some industry, a decent education system and no Brexit bind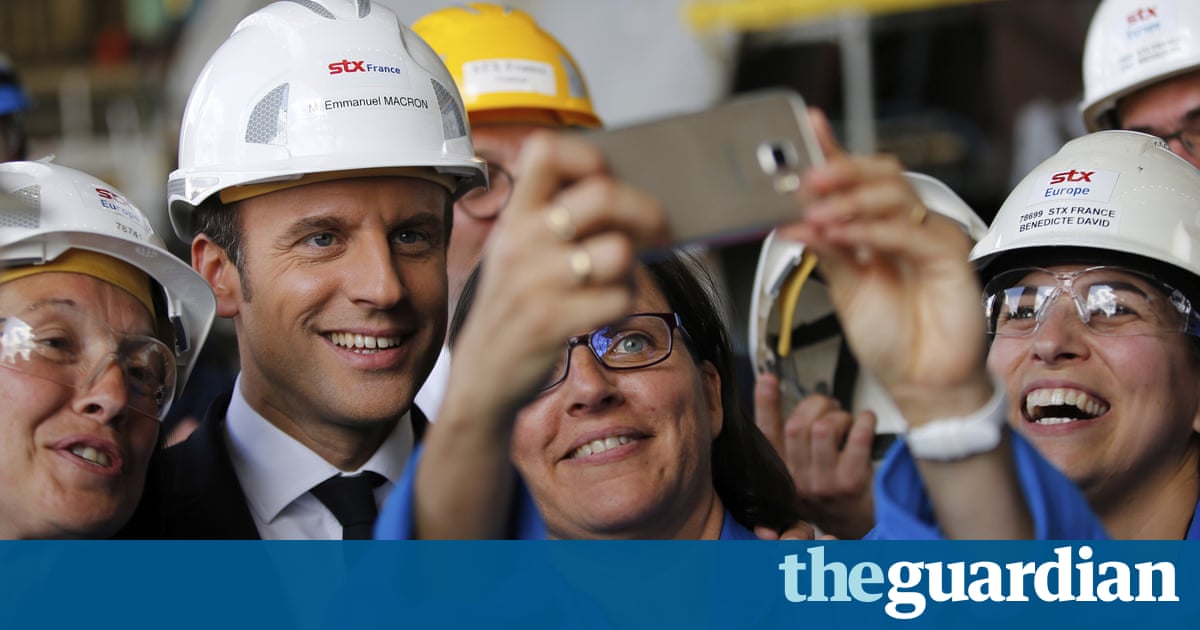 The French economy is growing at the same pace the UK managed in 2016 and looks set to maintain it for the rest of the year. Growth for the second quarter was 0.5% and 1.8% over the past year. Meanwhile the UK is shuffling along in the slow lane, up just 0.3% between April and June.
Does the reversal of fortunes tell us that France has found its mojo while the UK has done worse than let its foot slip off the accelerator?
There is certainly a swagger to president Emmanuel Macron as he surveys a scene his predecessor Franois Hollande dreamed about. Consistent growth is something that has eluded the French ever since the financial crash, as one false start after another robbed the economy of whatever momentum it had.
With Greek bankruptcy averted and the refugee crisis contained, at least in the view of the Brussels bureaucrats, France can grow again without hindrance while Germany and Spain maintain their stellar record of expansion. Italy may still be struggling, but now that its banks, like Greeces, are shored up with extra government cash, its ailing finances are to some extent ringfenced.
France is in the clear. To emphasise the point, unemployment is now at its lowest since the eurozone crisis, inflation is under control, and business surveys reveal the best confidence levels in a decade.
Most importantly, exports jumped 3.1% after a 0.7% contraction in the previous quarter and household spending growth inched up slightly to 0.3% in the latest quarter, from 0.1%.
But few analysts in the French financial services industry think the surge is more than a cyclical rebound. The return of business confidence follows Macrons election, the absence of financial disasters inside the EU and the cheap money flowing out of the European Central Bank, which is having the same effect now on France that the Bank of Englands quantitative easing had on the UK economy in 2013.
A structural recovery is one based on sustained increases in investment public and private and improvements in productivity that propel wages growth and higher standards of living for all.
Macron expects that a mix of neo-liberal supply-side reforms to a labour market dominated by union rules, and an attack on cosy business practices allied to directives from the Elyse Palace to reform the public sector, will bring about the mix of policies needed to achieve this aim.
But all his talk of industrial strategies is much like Theresa Mays empty when he has little money to spend and French businesses, much like their British counterparts, are unwilling to invest.
That means France will continue to rely, as the British economy does, on armies of young people working for low pay on short-term contracts to keep the wheels turning.
There is a silver lining, however. In the three months ending in May, world trade in goods grew by 5.1%, almost back to the growth rates seen prior to the financial crisis (the average rate then was 6.7%).
While Britain is hampered by Brexit uncertainty, France has the capacity to join Germany in exporting more of its high-grade machine tools, pharmaceuticals, aeroplanes and lorries to emerging markets. France has hung on to less of its industrial heritage than Germany, but has apprenticeship schemes and polytechnical educational establishments that put Britains to shame.
Rebuilding the UKs technical skills after four decades of decline will take some time. Further education colleges are on their knees and, to shore up their finances, universities are looking abroad for students even more than usual. The Brexit dividend of homegrown talent that will foster growth looks like a mirage to anyone in the education business.
That leaves Macron in a position where he only needs to achieve a fraction of the reforms he has planned for France to accelerate out of trouble, leaving the UK in its wake.
In the end, Virgin couldnt fly solo
Thursday was an exciting day for Virgin Atlantic, Sir Richard Branson wrote to his staff, as the airlines founder sold the bulk of his shareholding to Air France-KLM and left Delta with the biggest stake. But there were elegiac notes in the letter, recalling the decades when his airline was pitched as the upstart, punching above its weight. Now, Virgin has firmly sided with the big boys, and Branson can no longer control its destiny.
Staff may be less than reassured by Branson promise that the Virgin Atlantic brand would live on. The Atlantic suffix is apt: the airline has flown more and more on established routes to the US since the first Delta hook-up in 2012. But Virgins wings have been clipped, with riskier routes to Africa and Asia cut back.
To exit with 220m from Air France-KLM tucked away is an honourable retreat for an ageing knight. Airlines have had a good three or four years on the back of low oil prices, but the days of wafer-thin margins and teetering businesses are never far away. Virgins own return to profit is now menaced by Brexit and the falling pound.
Branson claimed to have proved Willie Walsh wrong. The chief executive of British Airways parent IAG said in 2012 that the Virgin Atlantic brand was likely to disappear if Delta took control. Branson may yet emerge technically victorious, but Walshs prognosis that smaller airlines would be swallowed up looks prescient. This deal was hastened partly because of the travails of another partner of Delta and Air France-KLM: national carrier Alitalia, perennially kept on life support by Rome.
Where full mergers are blocked by foreign ownership rules, joint ventures on lucrative routes, such as British Airways tie-up with American, have become the strategic alternative. But where permitted, consolidation has been the story: the US big four are the prime example. Although Virgin traditionally prized its independence, Branson has also concluded that it was now time to join forces.
Farewell to Libor
RIP Libor. The interest rate benchmark linked to a series of bank scandals is to be phased out in 2021, Andrew Bailey, head of the Financial Conduct Authority, has announced.
There have been various attempts to reform the index, used to price more than $350 trillion of financial products around the world, after it emerged that banks had been manipulating the rate.
But as Bailey admitted last week, banks no longer want to participate in the setting of Libor the London interbank offered rate.
Regulators did not suspect further wrongdoing or have any evidence of such, he insisted. But it certainly feels like the right time to retire a rate that has taken on toxic connotations in the wake of the financial crisis.
Now the search starts for an alternative. So its a good job the regulators have given themselves five years to come up with something that will be a lot less prone to manipulation than Libor of old.
Read more: https://www.theguardian.com/business/2017/jul/30/france-economy-macron-better-than-britains